Dr. Kaloang Kothari, Consultant - Gynoecologiest Oncology and Robotic Surgery - HCG Cancer Centre ~ Ahmedabad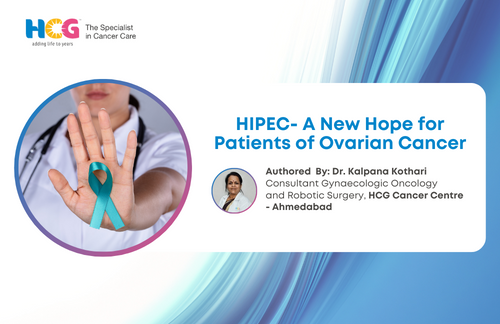 Ovarian cancer poses a significant challenge, with diagnosis, treatment, and recurrence remaining enigmatic. It ranks as the fourth most prevalent cancer among women in India and is a leading cause of mortality. Unfortunately, most cases are diagnosed at advanced stages (3 or 4). Initial signs like decreased appetite, nausea, and changes in bowel habits are often overlooked until abdominal distension occurs, indicating advanced disease. At this stage, referral to a Gynaecologic Cancer surgeon for further management is crucial.
Treatment of Ovarian Cancer spans various age groups. Germ cell ovarian cancers primarily affect young girls, for whom fertility-preserving treatments may be available even in advanced cases. Epithelial ovarian cancer is commonly found in reproductive-age women, while epithelial or sex cord stromal tumours are more prevalent in older patients.
Treatment for all cases typically involves extensive surgery aimed at removing visible tumours within the abdomen. Complete cytoreductive surgery, performed by experienced teams skilled in peritonectomy and organ resections, is essential. The timing of surgery is critical, often preceded by chemotherapy.
At HCG Cancer Centre in Ahmedabad, we offer the latest advancement in treatment: HIPEC (Heated Intraperitoneal Chemotherapy). This ground-breaking approach involves introducing heated chemotherapy drugs into the open abdominal cavity immediately after surgery and circulating them at high temperatures using a specialised FDA-approved machine. HIPEC significantly improves both disease-free and overall survival effectively eliminating microscopic disease after the removal of visible tumours, resulting in "cell-kill."
In conclusion, ovarian cancer affects diverse age groups, with the majority diagnosed at advanced stages. Comprehensive treatment, such as complete cytoreductive surgery, along with the addition of HIPEC, has shown remarkable improvements in recurrence-free survival and overall survival rates. Early detection, prompt referral, and access to advanced treatments like HIPEC are pivotal in achieving better outcomes in the management of ovarian cancer.