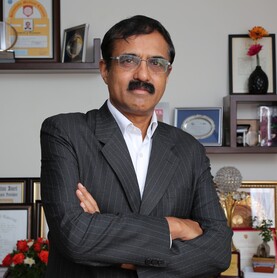 Dr B. S. Ajaikumar is the Executive Chairman of HCG. Dr Ajaikumar founded HCG to realize his vision of making advanced cancer care accessible to all. He has been the driving force behind HCG's growth since its inception. He has served as the CEO from July 2006 to January 2021
Dr Ajaikumar's contributions to the field of cancer care in India and his success as a first-generation physician entrepreneur have been widely recognized. He has been awarded the Ernst and Young Entrepreneur of the Year Award, the CII Regional Emerging Entrepreneurs Award, and the BC Roy Award by the Indian Science Monitor. Dr Ajaikumar is also the recipient of the Karnataka Rajyotsava Award.
Dr Ajaikumar has been a practicing oncologist in the US and India for over three decades. He completed his residency training in Radiotherapy from the MD Anderson Hospital and Tumour Institute of the University of Texas, and his residency training in Oncology from the University of Virginia Hospital, Charlottesville. He received his MBBS from St. Johns Medical College, Bangalore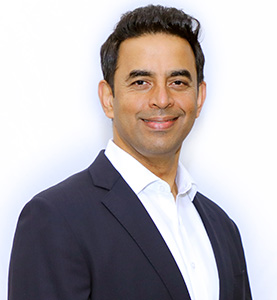 Meghraj Arvindrao Gore ('Raj Gore') was appointed as the CEO of HCG effective from February 01, 2021 and as a whole-time director effective from February 10, 2022.
Raj Gore is a seasoned global professional with more than 21 years of diverse experience in business management in North America, Asia, & Africa. Having been in the healthcare industry for 17 years, he has led business transformation and financial turnaround of acquired healthcare companies in India, Mauritius, and Vietnam, and has created sustainable growth momentum and value for these organizations. Raj also has hands-on knowledge and experience of the M&A spectrum including, post-acquisition integration
Previously, he has served as the Chief Executive Officer for the Southern Region of Apollo Hospitals and Chief Growth Officer and Chief Operating Officer (NCR) at Fortis Healthcare Limited. He has contributed to the phenomenal growth of these organizations by fulfilling various corporate, strategic, and operational roles.
Read More
Raj Gore holds a Bachelor of Chemical Engineering degree from Jawaharlal Nehru Engineering College, Maharashtra, Master of Science in Information Technology, and Master of Business Administration degrees from the University of Denver, USA. He has also completed Hospital Management Program from the Indian Institute of Management, Ahmedabad, and Singapore Management University, Singapore.
He has a keen interest in developing future leaders through coaching and mentoring as well as building high-performance teams and culture. Outside work, he is an avid sports fan and a nature enthusiast with a passion for wildlife photography.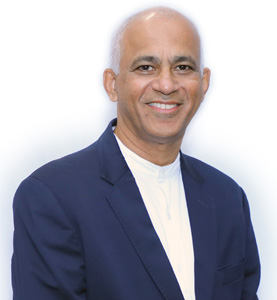 Abhay Prabhakar Havaldar is a non-executive, independent director of HCG. He holds a Bachelor's degree in Electrical Engineering from Mumbai University and a Master's degree in management from the London Business School. Previously, he was associated with General Atlantic, a global growth equity firm as an Advisory Director. Abhay was instrumental in establishing General Atlantic's India Office. He possesses a rich experience of investing in the Indian markets, including as a venture capitalist and growth investor.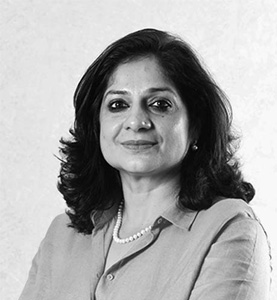 Geeta Mathur is an experienced finance professional having worked as a banker both on the asset side and risk side and with large corporate treasuries and investor relations.
She started her career with ICICI, where she worked for over 10 years in the field of project, corporate and structured finance as well represented ICICI on the board of reputed companies such as Eicher Motors, Siel Limited etc. She then worked in various capacities in large organizations such as IBM and Emaar MGF across areas of Corporate Finance, Treasury, Risk Management and Investor relations.
She transitioned to the development sector and worked as CFO of Helpage India, one of the largest and oldest national level NPO in India working for the cause of the elderly. She brought about systemic changes in the financial management systems including transition to Oracle ERP and won several awards for presentation and transparency in presentation of Accounts during her tenure.
Read More
She currently serves as an independent director in various large organizations across manufacturing and services such as Info edge (India) Limited, Motherson Sumi Wiring India Ltd, NIIT Limited, IIFL Group. Exposure to multiple industries disciplines helps her cross pollinate ideas and contribute effectively as a Board member.
She co-chairs the India chapter of Women Corporate Directors Foundation, a global membership organization and community of women corporate directors with a mission to foster a powerful, trusted community of influential women corporate directors.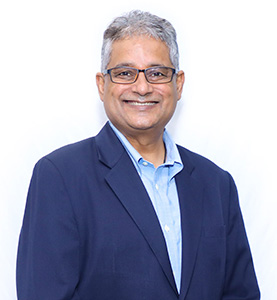 Rajagopalan Raghavan ("Raj Raghavan") is the Senior Vice President & Head of Human Resources at IndiGo, India's largest airline by market share. A key member of IndiGo's Executive Committee, he has responsibility for all aspects of Human Resources including ifly (IndiGo's Learning Academy), CSR and Administration functions.
Prior to this he was Amazon's Head of Human Resources (Asia Pacific & Middle East) for their International Consumer Business and Global Technology Development Centers in the region. Earlier, Raj was Head of HR for GE's Global Research and India Technology Centers. Starting his HR career in the late 80's, Raj has held several senior HR leadership positions across geographies in Hindustan Unilever, Ford Motor Company and HSBC.
Raj earned his Master's in Personnel Management & Industrial Relations at Madras School of Social Work, India and is a Global Fellow of The Wharton School in Talent Management.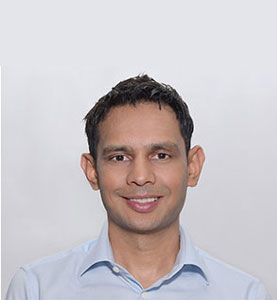 Siddharth is a Partner at CVC and joined in 2010. Siddharth was based in the London office for seven years in the global TMT team and, as of 2017, is based in Singapore where his responsibilities include the CVC India office. Prior to joining CVC, he was with Apax Partners where he spent nine years in the technology and telecommunications team leading or co-leading transactions across the sector. Prior to Apax, he worked at Monitor Company. Siddharth's previous investment experience in healthcare includes TriZetto, a leading provider of healthcare software and services. Siddharth holds First Class MA and BA degrees from the University of Oxford.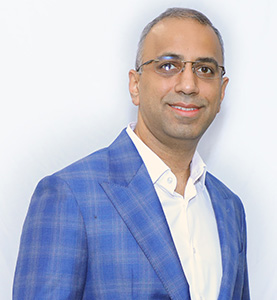 Amit is a Partner at CVC and joined CVC in 2017. Amit is a member of the CVC India team and based in Mumbai. Prior to joining CVC, he was a principal at General Atlantic where he spent nine years and led the firm's India investment strategy for internet, business services, software and financial technology. Prior to that Amit worked at 3i, Bill & Melinda Gates Foundation and McKinsey & Co. Amit's previous investment in healthcare includes CitiusTech, a leading healthcare IT services provider and MedExpress, a leading chain of urgent care centres. Amit holds an MBA from Wharton and a Bachelor of Technology in Electrical Engineering from IIT Delhi.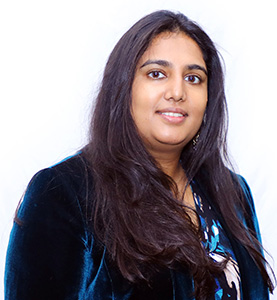 Anjali Ajaikumar Rossi is a seasoned professional and social entrepreneur with more than 12 years of experience in the healthcare sector with a focus on transforming the healthcare system through technological advancements. As the Vice President of Quality and Strategy for HCG, she has headed quality implementation and strategic growth planning for the network of twenty HCG hospitals nationwide. In this capacity, she has managed the departments of Operational Excellence, Home Health, Nursing and Quality.
Anjali Ajaikumar Rossi has built talented teams and actively empowered her staff to pursue continuous advancements in the quality of care, organizational efficiency, employee engagement and patient satisfaction. She has been a firm proponent of strategically adopting new technologies that further the mission of delivering superior care and expanding the organization's capacity to take advantage of the healthcare opportunities of tomorrow.
Read More
Anjali Ajaikumar Rossi is actively involved in non-profit initiatives of the HCG Foundation, which creates cancer awareness and raises funds for cancer patients who are financially challenged. She is also involved in the International Human Development & Upliftment Academy, a US/Indian NGO dedicated to fostering rural education, empowering women and creating environmental awareness. She is a member of the Board of Trustees of Bharath Hospital, located in Mysore.
Anjali Ajaikumar Rossi holds an MBA from Babson College, where she earned a degree concentration in Entrepreneurship. She has been associated in the past with Clarkston Consulting as a project leader and has also served as a consultant for the Global Tracheostomy Collaborative, an international NGO.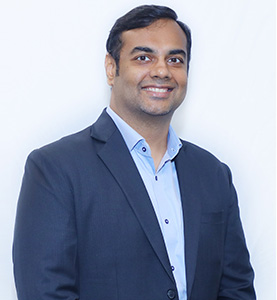 Jeyandran Venugopal (Jey) is an innovator and product thinker. His rich technology leadership experience spans more than two decades of pioneering work across both US and India in the consumer internet technology domain. Jey is currently the Chief Product and Technology officer for Flipkart. In his current role he leads a several thousand strong multi-disciplinary team spanning user research and design, product management, engineering, data science, corporate IT and information security. Jey has worked across several technology domains such as ecommerce, payments tech, cloud computing, search engineering, digital media platforms and others with companies such as Amazon, Yahoo and Myntra before his current role. Jey has also been a health tech entrepreneur and launched one of the earliest private telemedicine services in the country which was then subsequently sold to the largest epharmacy companies at that time.
Read More
Jey holds a Master's degree in computer science from the University of Illinois at Urbana Champaign (UIUC). Prior to that he did a Master's degree in Mechanical engineering with a focus on computational fluid dynamics from the same University. During his time at UIUC he held a research assistantship as a student consultant with the National Center for Supercomputing Applications (NCSA) where he had the opportunity to work on cutting edge supercomputing clusters and helping and advising research groups and commercial firms around the country who were using NCSA's compute facilities at that time. Jey did his Bachelor's degree in Engineering from the College of Engineering, Guindy.
Jey has a passion for all things technology and loves advising, mentoring and investing in deep technology and innovative startups.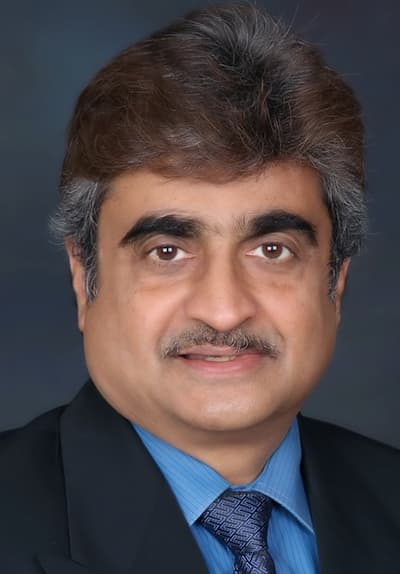 Pradip Kanakia is a strong leader and governance oriented professional with expertise in strategy, transformation, performance management, accounting, auditing, reporting, controls, compliance and governance. As a qualified Chartered Accountant of both England and Wales and India, he has held leadership positions with Price Waterhouse and KPMG during a career spanning 35 years. As a lead audit partner, he has led and signed audits of several prestigious Indian and multinational companies, across various industry sectors for over 23 years.
Several of these companies have won prestigious awards for the Best Presented Annual Reports. As a leader in both Price Waterhouse and KPMG, he played a major role in transforming the businesses of both the firms leading to accelerated growth and profitability by demonstrating the ability to 'turn around' underperforming business units with strong strategic and execution skills. He has led several thousand people in both the firms and cultivated a culture of high performance, collaboration and teamwork.
Read More
In Price Waterhouse, Pradip ran a flagship program for Non-Executive Directors and conducted more than 40 events for leading independent directors in both Mumbai and Delhi, covering the most relevant topics of corporate governance. Pradip enjoys strong relationships with leading Directors, CEOs, CFOs and other senior C suite professionals of companies across the country.
Pradip Kanakia is on the Boards of JM Financial Ltd, Camlin Fine Sciences Limited, Torrent Gas Private Limited, Viyash Life Sciences Private Limited, Stellar Value Chain Solutions Private Limited and Fable Fintech Private Limited.