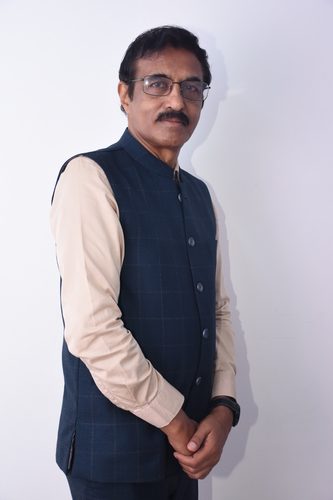 Dr. BS Ajai Kumar
Executive Chairman, HealthCare Global Enterprises Limited
Dr. BS Ajaikumar is the Executive Chairman of HealthCare Global Enterprises Ltd (HCG). He is one of the renowned radiation and medical oncologists in our country, and a determined community champion. His expertise in the field of oncology and his business acumen have also earned him the title of 'doctorpreneur'.
Dr. Ajaikumar founded HCG, a hub-and-spoke comprehensive cancer care organisation headquartered in Bengaluru, with multiple centres spread across India to make cancer care accessible and affordable while also ensuring the delivery of the highest quality cancer care even in Tier2/Tier3 cities. He has been the driving force behind HCG's growth since its inception. He served as the CEO of HCG Group between 2005 and Jan 2021. HCG is a sterling validation of Dr. Ajaikumar's unflinching belief that there is only one way to treat cancer: the right way, the first time.
Read More
As an ardent philanthropist, Dr. Ajaikumar has founded several NGOs to facilitate the betterment of the Gundlupet district, Karnataka. His organisations have generously provided financial aid to cancer patients in need, granted economic empowerment to women, and funded the education of hundreds of children.
Dr. Ajaikumar's contributions to the field of cancer care in India and his success as a first-generation physician entrepreneur have been widely recognised. Dr. Ajaikumar has been conferred the prestigious E&Y Start-Up Entrepreneur of the Year Award as well as the Asian Health Care Leadership Awards. Dr. Ajaikumar has given incisive talks at reputed academic and corporate organisations including Harvard Business School and Babson Business School.
Dr. Ajaikumar has been a practising oncologist in the US and India for over four decades. He completed his residency training in Radiotherapy from the MD Anderson Hospital and Tumour Institute of the University of Texas and his residency training in Oncology from the University of Virginia Hospital, Charlottesville. He received his MBBS from St. Johns Medical College, Bangalore.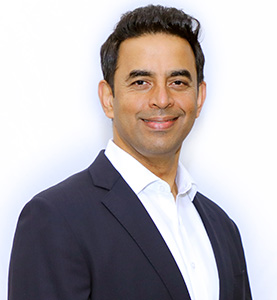 Raj Gore
Whole-time Director and CEO
Raj Gore is a seasoned global professional with more than 21 years of diverse experience in business management in North America, Asia, & Africa. Having been in the healthcare industry for 17 years, he has led business transformation and financial turnaround of acquired healthcare companies in India, Mauritius, and Vietnam, and has created sustainable growth momentum and value for these organisations. Raj also has hands-on knowledge and experience of the M&A spectrum including, post-acquisition integration.
Read More
Previously, he has served as the Chief Executive Officer for the Southern Region of Apollo Hospitals and Chief Growth Officer and Chief Operating Officer (NCR) at Fortis Healthcare Limited. He has contributed to the phenomenal growth of these organisations by fulfilling various corporate, strategic, and operational roles.
Raj Gore holds a Bachelor of Chemical Engineering degree from Jawaharlal Nehru Engineering College, Maharashtra, Master of Science in Information Technology, and Master of Business Administration degrees from the University of Denver, USA. He has also completed Hospital Management Program from the Indian Institute of Management, Ahmedabad, and Singapore Management University, Singapore.
He has a keen interest in developing future leaders through coaching and mentoring as well as building high-performance teams and culture. Outside work, he is an avid sports fan and a nature enthusiast with a passion for wildlife photography.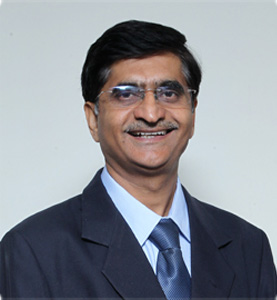 Dr. Bharat Gadhavi
Regional Director at HCG Hospitals Gujarat
Dr Bharat Gadhavi is the regional director of the Gujarat region of HCG. He has over 13 years of experience in the field of hospital management and administration.
Previously, he was the medical director at Sterling Addlife India Private Limited from 2001 to 2007.
He holds a Master's degree in surgery from the Maharaja Sayajirao University of Baroda and has done his MBBS from the Maharaja Sayajirao University of Baroda.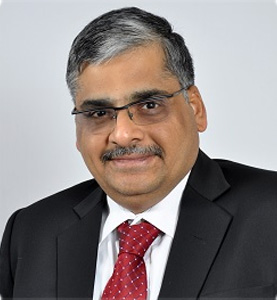 Srinivasa Raghavan
Chief Financial Officer, HealthCare Global Enterprises Limited
Srinivasa Raghavan has around 28 years of diversified business experience, including over 20 years as CFO in IT, ITeS and manufacturing industries. He has been a strong strategic business partner with global exposure, driving a strong controllership and compliance environment, supporting business leaders to drive and sustain a high culture of performance with a key focus on business outcomes and results. He has served as the CFO for Computer Sciences Corporation (India), Logica (Global Operations) and General Electric (GE Lighting and GE Capital). He has also worked in Motorola and other companies. He has made immense contributions by driving growth agenda, business turnaround, efficiency and rationalisation, cost management, restructuring, M&A and institution of governance systems and processes to ensure compliance and controllership.
Read More
He is a recipient of the CFO "League of Excellence" Award by CFO 100 and is certified in Six Sigma (green belt). He is a qualified Chartered Accountant from the Institute of Chartered Accountants of India and a Cost and Works (Management) Accountant from the Institute of Cost and Works Accountants of India.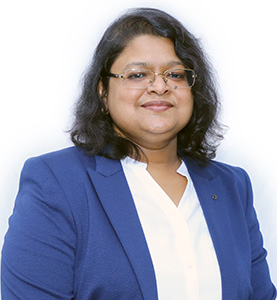 Sunu Manuel
Company Secretary, HealthCare Global Enterprises Limited
Sunu Manuel is the company secretary and compliance officer of HCG. She has been with HCG since 2006.
She is a member of the Institute of the Company Secretaries of India and holds a B. Com from Calicut University.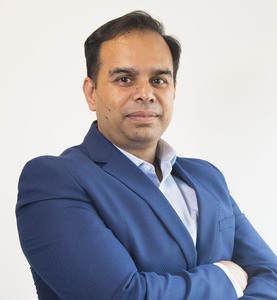 Sudeep Dey
President – Information Technology and Chief Information Officer
Sudeep Dey is the President – Information Technology and Chief Information Officer for HealthCare Global Enterprises Limited and Group of Companies. He has more than 20 years of experience as a strategic technology leader and is highly skilled at implementing IT programmes that secure data, improve processes, spur innovation, and improve organisational strategies. He formerly worked at Fortis Healthcare Limited, where he served as Head of IT for all 32 of its units. Prior to Fortis, he was the Head of Business Applications and Enterprise Architect at Godfrey Phillips India Limited.
Read More
He has tremendous experience in leading extensive, large-scale enterprise-wide IT projects. He had played a pivotal role in the nation's first major cloud and mobility strategies and implementation projects.
Sudeep holds degrees in management from Symbiosis in Pune and system management from NIIT Academy in Delhi. He is academically inclined and loves to read and stay current on developments in his line of work. He has completed certificate programmes in Executive Data Science from Johns Hopkins University and Digital Transformation from the University of Virginia. He has been a visiting faculty at several reputed institutions on his subject in India.
Sudeep loves travelling, driving, racket sports, and cycling.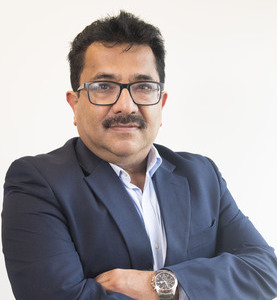 Vineesh Ghei
Chief Sales Officer
Vineesh Ghei is an adept business professional with over 25 years of experience across the telecom, e-commerce, and healthcare domains. He has diversified exposure in sales, marketing, and business development across different geographies in India. He is serving as the Chief Sales Officer (CSO) at HealthCare Global Enterprises Ltd. He is playing an instrumental role in driving growth and revenue ramp-up across the domestic and international lines of business by coming up with novel business strategies that are in line with the company's vision and values.
Read More
In the healthcare vertical, he has served as Regional Head – Sales & Marketing for the Southern region at Apollo Hospitals, and Regional Sales Head and International Sales Head at Fortis Healthcare Ltd. He is also associated with the growth stories of several reputed organisations, such as BPL Mobile, Reliance Communications Ltd., and Bharti Airtel Ltd.
He holds a Bachelor of Engineering in Electronics and a Post Graduate Diploma in Management Studies from Mumbai University and strongly believes in challenging obstacles.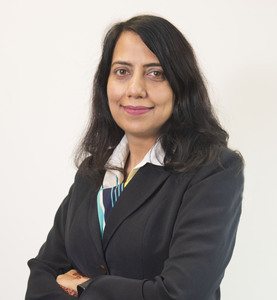 Deepti Gautam Tewari
Chief Human Resource Officer
Deepti is a seasoned HR professional, ex-Army officer, and author with over 21 years of experience in diversified senior management human resource roles with exposure to the US, Europe, and Indian multinationals. Deepti is the Chief Human Resource Officer at HCG, where she is responsible for leading the overall human resources strategy, talent acquisition, diversity and inclusion, talent development, compensation and benefits, HR operations, and technology and employee relations.
Read More
Before joining HCG, she was associated with Quark as the Vice President – Human Resources, Emirates Group Dnata as the National Head-Human Resources, and Personiv as the Vice President – Human Resources. She was also associated with TCS for almost 6 years. She was also a Short Service Commissioned Ex-Army Officer in the Indian Army for five years.
She holds an MBBS degree and an Executive MBA degree from XLRI Jamshedpur and Hospital Management from NIHFW, New Delhi.
She is committed to making a positive difference in people's lives. As one of her many steps towards accomplishing that, she has authored the book, "Unleash Your Hidden Strength – Fear to Success".
Her skills and expertise have been honoured with several prestigious recognitions:
"Samanya Seva Medal" – Indian Army
"Most Influential HR Technology Leaders" – World HRD Congress
"Women Super Achiever Award" for benchmarking talent & HR practices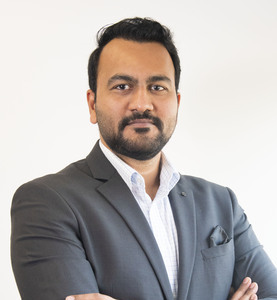 Madan Sampath
Chief Supply Chain Officer
Madan Sampath is a seasoned procurement specialist with nearly two decades of experience in procurement management across multiple industries. He has been associated with several leading multinational organisations in Europe, China, the USA, and India. 
Read More
At HCG, in his role as the Chief Supply Chain Officer, Madan oversees the organization's global enterprise procurement, supplier relationship management, strategic sourcing innovation, third-party risk management, business resiliency, corporate real estate, physical security, and corporate services teams, while collaborating with the executive leadership and leaders of different functional areas within the organisation to provide insights and strategies to support business growth.
In his last roles with Aster Hospitals, Columbia Asia Group in India and Michelin Tyres in France and China, Madan was involved in the hospital and several manufacturing set-ups, leading the procurement and supply chain teams. He was responsible for group-level purchasing strategies and managing global suppliers, handling high-value contracts with a track record of delivering large savings and improving operational efficiency.
Madan has an advanced degree in purchasing from the European Institute of Purchasing Management in France, and he also serves as a guest faculty at IIM-K.