Cancer Care
Travelling for a second opinion on cancer diagnosis or cancer treatment can be overwhelming for both the patients and their caregivers. Many things can come between the patient and his/her treatment in an unknown country. However, it is not as difficult as it sounds.
HCG – the Specialist in Cancer Care can make every step of your cancer care, from your first query with us to your follow-up after your treatment, as seamless as possible.
HCG has been constantly striving to transform the country's healthcare environment through quality clinical care, clinical excellence and ground-breaking innovations. Besides this, it is also extending its footprint to international markets. We have already established cancer centres in Eastern Africa and are hoping to expand further to other countries in the near future.
At HCG, your cancer treatment is made both value-based and patient-centric. Our core focus is to bring in all the core clinical services under one roof and treat every patient and every cancer case with the right treatment, the first time.
With high-quality cancer care delivery, we aim to help our patients achieve a better quality of life.
When you travel to us for your diagnosis or treatment, we ensure that you receive the best care at every stage. We use the multidisciplinary approach to treat each patient, wherein specialists from multiple disciplines come together to study each case before coming up with the best possible treatment plan that positively impacts both the clinical outcome and the patient's quality of life.
At HCG, you will be given access to the very best in cancer care:
Clinical expertise of more than 400 skilled and experienced oncologists
Latest diagnostic and treatment technologies like Digital PET CT, CyberKnife, TrueBeam, TomoTherapy H, etc.
Advanced treatment protocols such as minimally invasive robotic surgery, organ preservation, reconstruction surgeries etc.
Pioneering experience of more than 30 years
CyberKnife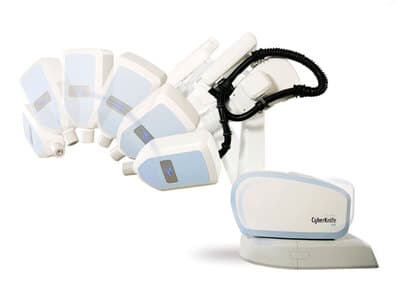 CyberKnife is the world's first FDA-approved whole-body radiosurgery system that helps in treating inoperable tumours through radiation therapy. CyberKnife works by delivering high-dose radiation to kill the tumour cells with superior precision. CyberKnife's precise radiation delivery helps in minimising damage to the surrounding healthy tissues.
What makes CyberKnife the best?
It can treat complicated tumours
Less pain and no blood loss
It can be an outpatient procedure, or patients can be discharged quickly
Fewer treatment-related complications
Improved quality of life
HCG is one of the few centres in India to have the CyberKnife facility. This technology, when coupled with the expertise of our cancer specialists, can help in treating various cancers the right way, the first time.
Robotic Surgery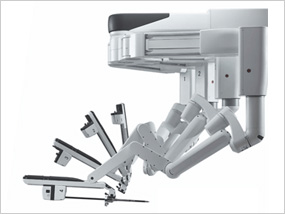 Robotic surgery is a minimally-invasive procedure that helps specialists in operating complicated tumours with enhanced precision, flexibility and better control. The robotic surgery system consists of 4 interactive robotic arms to hold the surgical tools and a 3D camera, and an ergonomically designed console, where the doctor sits and performs the surgery by controlling the robotic arms.
What makes Robotic Surgery the best?
Higher chances of positive clinical outcomes
Fewer post-surgery complications
Faster recovery and shortened hospital stay
Minimal scarring due to tiny incisions
Lesser pain and reduced blood loss
With a primary focus to constantly improve the quality of cancer treatment, we are consistently working towards employing the latest technology and innovative treatment approaches to treat our patients.
We have internationally-trained robotic surgeons who are skilled and experienced in managing multiple cancer types through robotic surgery.
Second Opinion in Cancer Diagnosis
A primary diagnosis is not sufficient to address cancer. In most cases, a second opinion opens a whole new door in the form of better disease understanding, much-detailed prognosis, wider treatment options and lastly, it gives much-needed confidence to the patients.
A second opinion will help you make informed health decisions, which will impact your recovery. A second opinion becomes important when:
You do not have clear information about your diagnosis
The cancer is not responding to the current treatment
The current treatment is causing side effects
You are unsure about the diagnosis or treatment
Our centre of excellence in Bangalore houses a comprehensive diagnostic unit that comprises PET CT (digital/analogue), genomics, digital mammography, high-resolution MRI scanner, etc., and a large network of specialists in order to ensure that you receive a second opinion that helps you make the right decision.
Bone Marrow Transplants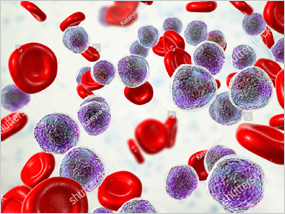 Bone Marrow Transplant is considered to be a realistic curative approach for several benign and malignant haematological disorders.
It is a procedure wherein the damaged bone marrow cells or stem cells are replaced with the healthy ones which are either collected from the patient itself (autotransplant) or another individual (allogeneic).
At HCG, our haematology and BMT department has skilled specialists who are experienced in managing a wide range of haematological disorders. With the largest network of trained specialists and over 1200 successful transplants under our belt, we aim to create a comfortable treatment setting and deliver personalised care for every patient who reaches out to us.
Breast Cancer Treatment: With Success Rates that Are On Par With the U.S. Benchmarks
Early detection and timely treatment are important for the successful management of breast cancer. Through multidisciplinary approach and treatment protocols such as minimally-invasive surgeries, organ preservation surgeries and breast reconstruction surgeries, our oncologists are trained to treat every breast cancer case with the best treatment plan.
A study conducted by Harvard Business Review has reported that our breast cancer survival rates are comparable to the U.S. benchmarks.
Prostate cancer Treatment: With Excellent Survival Rates
Prostate cancer is one of the silent and slow-growing cancers. It is important to detect this cancer in its early stage and receive the necessary treatment. Prostate cancer is one of the common cancers among men around the world.
At HCG, we have all treatment modalities such as surgical oncology, radiation oncology and medical oncology all under one roof. This helps us treat our prostate cancer patients with the right treatment, along with a positive impact on their quality of life.
Reaching Out to HCG
Upon receiving a request from you, our query team will get in touch with you to discuss your medical history and the same will be relayed to our specialists at the hospital. In the next step, you will be recommended to take a medical opinion from one of our specialists.
Seeking a Medical Opinion
We will be scheduling a video consultation with one of our specialists, where you can discuss your current condition, medications, medical history and other information. Upon carefully assessing the information shared, the next steps will be suggested.
In case you are required to travel to India for the treatment, the specialist may ask additional questions about your ability to travel immediately, temporarily stay in India, etc.
A Checklist for Your Journey
Before travelling, please ensure that the following documents are available with you:
1. Ticket copies
2. Yellow fever vaccination certificate (*If applicable)
3. Quotation / other documents shared by our team
4. Medical reports
5. Passports copies
6. Passport size photos
7. Insurance documents
Travelling to India
At HCG, we leave no stone unturned to ensure that you receive 360-degree care and assistance. No matter what your concerns are, starting from visa assistance to accommodation, our International Patient Operations team will be more than happy to assist you in every step.
We also provide airport pick-up service along with all the other services, such as accommodation, that you would be requiring during your stay at HCG.
Admission/Discharge
We have a dedicated team of medical officers who will take care of your admission and discharge procedures. We ensure that every procedure is made hassle-free for you and help you focus on your treatment and recovery.
Post-Treatment Follow-Up
Post-treatment follow-ups are as important as the treatment itself. However, these follow-ups can be made over video consultations, too. This way, you do not have to keep travelling. We make it a point to make your recovery and convenience our top priority.

Treatment plan with cost estimation


Airport pick-up and drop services

Arrangements with leading resorts, clubs & hotels for post-operative recuperation

Guest rooms available at certain locations within hospital premises with international menu

Availability of foreign currency exchange facilities

Legal intimations / registration with local authorities

Facilitating medical appointments

International audio / video conferencing facility

Wifi access in rooms (for people carrying laptops)

Insurance alliance with major international insurance companies & healthcare TPA's

Payments thorough all major international credit / debit cards and wire transfers

Local travel arrangement for shopping / site-seeing
Videos
Cyberknife precision radiation oncology | Dr. Sridhar P.S | Radiation Oncology | HCG Oncology