Andhra Pradesh's cancer care specialist, HCG Cancer Centre, has pioneered in bringing advanced technology and innovative and patient-centric treatment approaches closer to people. Over the past 15 years, HCG has brought in multiple diagnostic and treatment delivery platforms that have made us capable of helping our patients win over cancer the right way, the first time.
As one of our many steps towards strengthening our fight against cancer through value-based and personalised medicine, HCG Cancer Centre, Vijayawada inaugurated the cutting-edge linear accelerator by Elekta, Versa HD and the first-of-its-kind bone marrow transplant unit in Vijayawada in September 2021.
VERSA HD BY ELEKTA: A PERFECT AMALGAMATION OF SPEED, HIGH DOSE RATE AND PRECISION IN RADIATION DELIVERY
Elekta's Versa HD is a versatile, all-in-one system that is made capable of delivering a wide variety of external radiation therapy modalities for a broad spectrum of cancers. Its unique high-dose-rate delivery feature coupled with motion adjustment technology allows specialists to target the tumours with high doses of radiation whilst preserving the nearby critical structures.
Unlike previous radiation platforms, Versa HD comes with a myriad of advantages for patients. Its sophisticated features make treatment planning simpler, therapy effective and recovery faster.
HOW DOES VERSA HD WORK? WHAT MAKES IT A REVOLUTIONARY TREATMENT PLATFORM?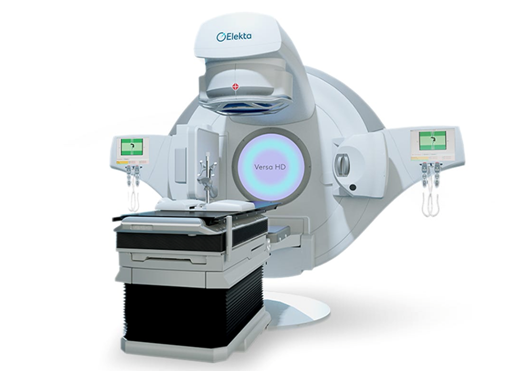 ELEKTA VERSA HD: A REVOLUTIONARY RADIATION DELIVERY PLATFORM
Versa HD features Agility, Elekta's revolutionary multi-leaf collimator (MLC). This beam-shaping device comprises individual leaves made up of high atomic number material, such as tungsten. These leaves can move independently in and out of the path of a radiation beam to shape and change its intensity. Instead of the regular tongue-and-groove design, 160 MLC featured in Elekta Versa HD has a single focus design with flat-sided and tilted leaves.
In the past, MLC leaf speed has been a stumbling block in the use of high-dose-rate delivery. With the higher dose rate, the leaves were frequently unable to move quickly enough to give advanced modulation. This often led to less accurate tumour targeting and increased damage to the surrounding tissues.
Versa HDs 160 multi-leaf collimator leaf, on the other hand, comes with a speed that is two times faster than other MLC systems. It combines high resolution and low leakage with leaf movement as quick as 4 cm per second. Regardless of the tumour shape, specialists can treat tumours with surgeon-like accuracy whilst protecting the nearby healthy tissues. Higher speed also translates to shorter treatment durations and increased chances of positive clinical outcomes.
Radiologists can use Versa HD to treat a wide variety of tumours throughout the body with remarkable precision and efficacy. Versa HD assists radiologists in attaining excellent clinical outcomes even in the most difficult cancer cases due to its flexibility and agility.
Elekta Versa HD offers anatomically connected 4D imaging as well as cutting-edge 4D soft-tissue visualisation to detect respiratory movements and precisely target mobile lung malignancies. This platform also allows for high doses to be delivered in short periods, such as in stereotactic radiation therapy, lowering treatment time and enhancing efficiency.
Each session might last anywhere between 10 and 20 minutes.
The machine is capable of delivering high-precision radiation treatments such as:
1. Volumetric Modulated Arc Therapy (VMAT/Rotational IMRT)
2. Stereotactic Body Radiotherapy (SBRT)
3. Image-guided Radiotherapy (IGRT)
4. Intensity-modulated Radiotherapy (IMRT)
5. Stereotactic Radiosurgery
6. Stereotactic Radiotherapy
7. Electron therapy
Numerous factors collectively make Versa HD a revolutionary radiation delivery platform:
1. Versa HD allows specialists to treat difficult tumours with sub-millimetre precision.
2. This treatment platform assists radiologists in protecting vital structures near the tumour while also attaining positive outcomes with dual registration of target(s) and critical structures.
3. Versa HD can treat both single and multiple targets in complicated structures, such as the lungs.
4. Through its motion adjustment technology and superior precision radiation delivery, treatment with Versa HD comes with fewer treatment-related complications and, in most circumstances, supports faster recovery.
A STATE-OF-THE-ART BONE MARROW TRANSPLANT UNIT IN VIJAYAWADA
The centre also launched a fully-equipped Bone Marrow Transplant (BMT) unit, which houses cutting-edge facilities and an able team of skilled haemato oncologists, BMT experts and trained onconurses. This full-fledged BMT unit in Vijayawada will bring international standards of clinical care for benign and malignant haematological conditions; now, care comes closer to home for thousands of patients in Andhra Pradesh.
Bone marrow transplant or stem cell transplant is touted to be the potential cure for blood cancers, such as leukaemia, lymphoma, and myeloma, as well as other haematological disorders, namely sickle cell disease, thalassaemia, aplastic anaemia and hereditary immune deficiency syndrome.
HCG's BMT unit is enabled to deliver comprehensive BMT programmes – support multiple types of transplants while also giving equal importance to the quality of life throughout the treatment and after.
BOTTOM NOTE
With care-delivery experience of more than 30 years, HCG has been the country's leading cancer care provider while also being at the forefront of cancer research and innovation. Our new learnings have paved the way to making cancer care not only more effective but also safer.
HCG Vijayawada, which has been functional for more than 15 years, has key treatment modalities such as surgery, radiation therapy, systemic therapies, namely chemotherapy, immunotherapy and hormone therapy and haemato oncology along with comprehensive diagnostic services under one roof. We have a strong team of dedicated oncologists in order to ensure that our patients are given the right treatment, the first time and gradually return to the best state of health possible. With over 400 oncologists and a nationwide network, NOBODY KNOWS CANCER LIKE WE DO.