Urvi Sabnis, Cancer Survivor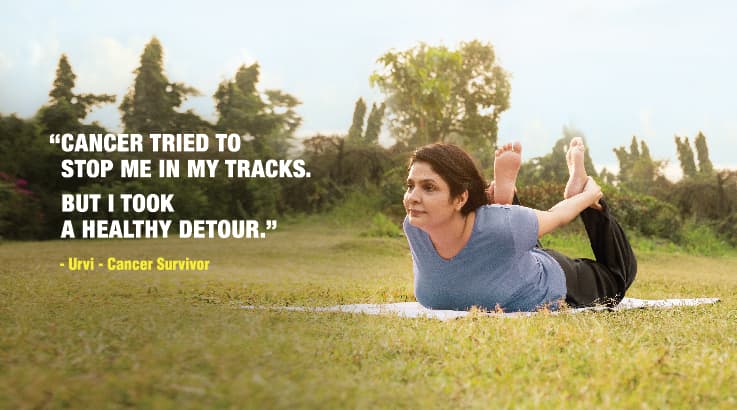 The beginning of my story was rather mundane. A small town girl with big dreams, I gradually made a name for myself in the male dominated corporate world. On top of it, I had a perfect family; life seemed to pass by.
On January 2015 my life took a different turn.
When it came to Cancer, I was always vigilant and proactive in getting myself screened. I remained extra careful given that there were four cases of cancer in the paternal side of my family.
It was a shocking revelation for me when I was diagnosed with 2nd stage of breast cancer. My perfect life came crashing down – or so everyone thought.
I knew better than to fall into the emotional upheaval that grips so many fellow sufferers. It was imperative for me to keep the focus away from my feelings and move towards a swift recovery. To accomplish this I drew on my inner strength and on god's omnipresent blessings.
Ticking my wish list
My treatment went on for seven months where I had to endure mastectomy, breast reconstruction surgery (a nine long hour procedure) and chemotherapy.
Meanwhile, I utilized those seven months in ticking my wish list right from my home.
Since childhood I was always interested in music. With growing responsibilities, I discontinued my music lessons. I decided to indulge in my passion especially at a time when I was being tested.
Secondly, during the treatment my doctor had placed various restrictions on food in terms of what I could eat or not eat. This made life very mundane for me. My daughter, having noticed my discomfort suggested me to experiment on various culinary combinations within the restrictions placed by my doctor. Since I already have the habit of creating new dishes, the idea inspired me further to continue innovating while cooking.
Lastly, given my interest in cricket since childhood, I ensured that I watched the world cup even when I was unwell.
A Woman's hair is part and parcel of her beauty and losing it is a nightmare. Having experienced hair loss, I decided to write about it. I subsequently decided to groom myself in such a way that my bald head would remain nothing short of a fashion statement. I not only survived cancer, but lived through it.
Looking back I could say that there were certain bad days in my journey. The worst was the fifth chemo cycle. As a side effect, I got ulcers in my stomach which resulted in excruciating pain and losing of consciousness.
Luckily I was admitted to the emergency ward and came home the next day in perfect condition. Doctors were expecting the next cycle to be even worse, but to everyone's surprise it went very well.
A Beautiful life in waiting
My journey was blessed thanks to the rock solid support of my husband and my teenage daughter. We simply locked our emotions and concentrated on the treatment which also turned out to be our coping mechanism.
Given the restrictions advised by the doctors, we tried as much to live a normal life. My family ensured that I was not just a cancer patient but a part of them. They made me believe that a beautiful life was waiting for me.
To all those enduring cancer all I can say is that it's just a phase. If you see your life as a book, this period would just be a couple of paragraphs.
Beyond Cancer
My close encounter with cancer spurred me.
I realized that there were many sufferers who are less fortunate than me, both in terms of emotional and financial support. With some directions from my doctors, I undertook the counseling of distraught patients and their families. My objective was to help them come to terms with cancer and advise them on how to deal with it.
In our society, there is a myth that cancer equals death or a cancer survivor cannot lead a normal life. I want a loud and clear message to go to the people out there – you can be healthier than ever before.