Dr. Anand Subash, Consultant – Head and Neck Oncology and Robotic Surgery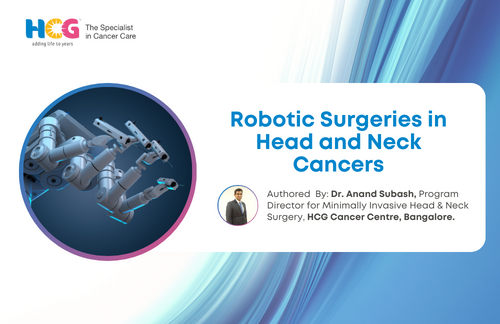 Overview
Over years, we have come a long way in managing head and neck cancers. However, until recently, the specialists did face a technical challenge, and that was on dealing with the malignancies forming in the hard-to-reach areas of the head and neck region. Traditionally, the tumours present in the areas are removed by making a large neck incision and cutting of the bottom jaw.
As one can imagine, these procedures have to be followed by lengthy hospital stays and extensive rehabilitation amidst dealing with a good number of short-term and long-term treatment-related complications, such as swallowing and speaking.
Nevertheless, in recent years, we have made significant progress in the surgical management of head and neck cancers. Today, we are able to reach the tumours present in these challenging areas with the help of minimally invasive approaches and robot-assisted surgeries.
With numerous advantages ranging from fewer treatment complications and shorter hospital stays to faster recovery and improved quality of life, robot-assisted surgeries have a lot to offer when it comes to the management of head and neck cancers. Functional organ preservation is one of the biggest advantages of robot-assisted surgeries.
Importance of Robotic Surgery in Head and Neck Cancers
The head and neck regions comprise delicate structures, and therefore, surgeries made on these structures demand utmost precision and specialised expertise. Transoral Robotic Surgery (TORS) offers a myriad of technical advantages as compared to the existing endoscopic and transoral open surgical approaches.
Numerous studies have reported TORS to be a less morbid, much safer and relatively more effective surgical approach for the management of head and neck malignancies.
Through upgrades like magnified 3D visualisation and 360-degree EndoWrist technology, which support enhanced accessibility to difficult areas in the head and neck regions, TORS has broadened the horizon of surgical management of head and neck cancers.
By offering precise tremor-free wristed instruments that are able to navigate through tiny incisions and work around crucial and delicate structures, this approach helps in reducing damage to the surrounding healthy tissues and causing fewer treatment-related complications.
A large number of studies have been conducted on how TORS impacts the clinical outcomes and the quality of life after the treatment. The key benefits of undergoing TORS for head and neck cancers are:
In the case of early-stage head and neck cancers, there are high chances of TORS alone being sufficient to treat cancer successfully.
Those who have undergone robotic surgery for head and neck cancers require lower dose radiation therapy than those who have not undergone surgery. By lowering the doses of radiation, it is possible to reduce damages to the muscles that are responsible for swallowing and nerves present in the throat region.
Celebrating 100 Successful Robotic Head and Neck Surgeries at HCG
At HCG, we have the highest level of surgical expertise blending with cutting-edge technology in order to deliver the best robotic surgery solutions.
The head and neck robotic surgery programme at HCG started in the year 2017. Recently, we achieved the amazing feat of completing 100 successful robotic head and neck surgeries. This journey comprised a lot of things starting from hesitancy and scepticism about bringing in technology to treat cancer to the gradual acceptance of this approach as an effective treatment option.
Our team has always strived to develop a holistic ecosystem around robotic surgery through inter-departmental collaborations, clinical and translational research, audits, innovations and training.
Throughout this journey, we have tried to bring down the costs associated with this procedure and help more patients make use of this treatment approach. We have developed our own retractor systems that helped us bring down costs, and this strategy has been lauded by the industry experts as well.

Ra-Vi Retractor Used for Robotic Neck Dissection
To achieve the highest quality clinical outcomes, we consistently audit our work approach, especially the safety and efficacy of this procedure. We also conduct regular clinical research to come up with more innovative surgical approaches that are going to positively impact the clinical outcomes and quality of life among patients. We have presented our clinical findings at various national and international platforms and have also been lauded for the same.
Apart from providing treatment and carrying out research, we also hold a keen interest in making this special discipline more structured and organised with the help of proper training. We have curated a special course to train our head and neck surgeons on the basics of robotic surgery and help them become certified head and neck robotic surgeons.
To add more precision and value to the treatment given, we have our robotic systems fortified with augmented reality as well.
Bottom Note
With a perfect amalgamation of new-age technology, cancer biology research and targeted care, the head and neck robotic surgery team at HCG strives to make cancer care more patient-centric, value-based and reassuring right from the point of diagnosis and help patients return to the best state of health possible.
This article is contributed by Dr. Anand Subash, consultant – head and neck oncology and robotic surgery, HCG Cancer Centre, Bangalore.