Dr. B.S. Ajaikumar, Executive Chairman and Founder of HCG-BHIO (Bharath Hospital and Institute of Oncology), Mysuru, urged the society to elect more women in politics so that we have well-rounded leaders governing us.
He was speaking at the International Women's Day celebrations held at Kalamandira yesterday under the auspices of BHIO.
Dr. Ajaikumar said time has come for women to be in the forefront of politics and governance. ?Women are born leaders. The way they run a family and a home daily demonstrates their leadership skills. Now they need to sit in Panchayats, Assembly and Parliament and rule the country. We are soon going to start rigorous political leadership training for 5,000 women in Begur and Gundlupet. These women will eventually enter politics and contest elections,? he said.
Dr. Ajaikumar said hundreds of women are working as doctors, nurses and caretakers at BHIO and all HCG hospitals. ?When I recruit a woman in my hospital I know for sure, she will be a committed and sincere worker. I have seen that a woman has more dedication and gives her 100 percent every single day. An empowered woman is an asset to any society. Today women are foraying into all fields ? technology, science, arts, defence. They join our armed forces and even fly fighter jets. They have their own cricket team too. I always feel, give women the opportunity and they will put their heart and soul into it to achieve success. Let us celebrate women every day instead of just one day in a year,? he observed.
Prof. R. Indira, former Chairperson, Department of Sociology, Manasagangothri, who also spoke on the occasion said, ?Though some of the issues or problems faced by women are solved still there are new problems which they are facing including online crimes. Globally, internet access to women is less; during covid, according to studies, 40 percent of women didn't have online access. Even today many traditional families don't get mobile phones for their daughters. Going by all this, women empowerment is very much the need of the hour.?
Bhagya Ajaikumar, Director, BHIO, said, ?This day is marked to recognise achievements of women in all fields ? arts, science, social, economic and political endeavours. We need to focus on bringing gender equality. Instead of just dedicating a day to women, let us take the responsibility to encourage women in their professional roles each day and every day.?
Usually for most of the programmes of BHIO, the event including the anchoring was done by womenfolk but on Wednesday, gentlemen doctors of BHIO ? Dr. Vinayakumar Muttagi, Dr. K.G. Srinivas, Dr. M. Vijaykumar,
Dr. G.H. Abhilash and Dr. R. Raxithsringeri ? hosted the entire event to pay respect for all the women.
Dollu Kunitha, usually performed by male, was performed by women staff of BHIO. After a few days of training under Kumar, BHIO girls presented an outstanding Dollu Kunitha.
Women achievers including Nursing Superintendents from various Hospitals were honoured on the occasion.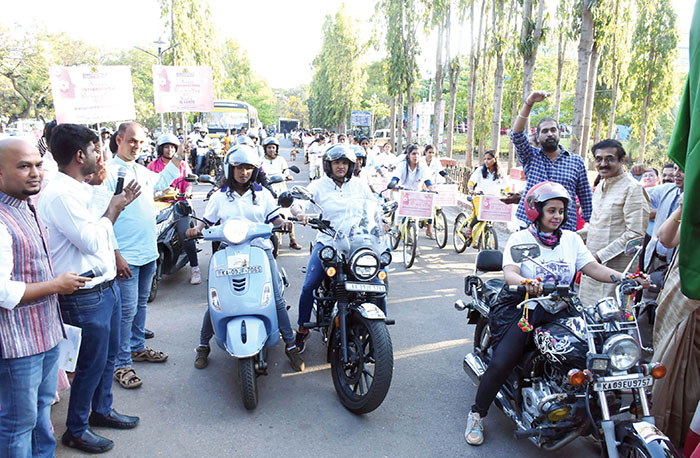 Bike and bicycle rally
Prior to the stage programme, women from various walks of life took out a bike and cycle rally from Kalamandira on the theme 'Riding Your Way to Good Health.' The rally passed through Hunsur road, Open Air Theatre road and Kukkarahallli Lake road before culminating at Kalamandira.
With the theme DigitALL - Innovation and Technology for Gender Equality, BHIO is having health packages for teachers including free consultation and 50 percent discount on Mammography, ultrasound, Pap smear and blood investigation throughout this month.
Dr. Y.S. Madhavi, Medical Superintendent of BHIO and Nirmala K. Murthy, COO of BHIO were also present.