Dr. Ayan Basu, Head of Oncology, HCG EKO Centre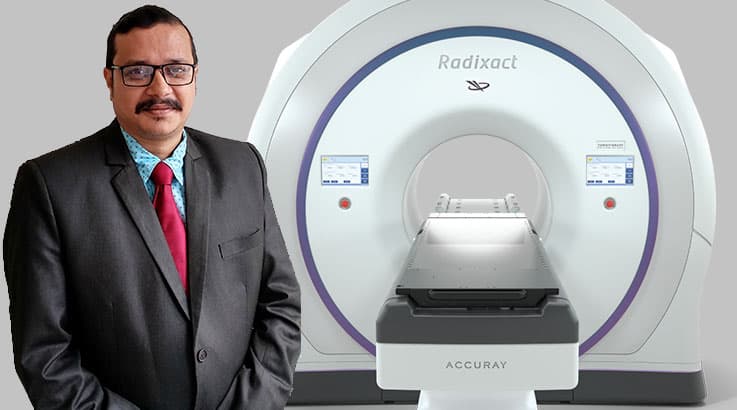 In the world of Cancer care, there is always a possibility of unique challenges on a case to case basis. Typically when putting a technology in treating cancer, its versatility to treat all tumour types becomes an important criterion as a one point solution.
In that sense, Radixact is one of the state-of-the-art technologies for treatment of cancers. Its ability to acquire CT scan every day prior to delivery of highly accurate and uniform radiation dose to the cancer affected region is noteworthy. This helps us in ensuring treatment is delivered conformal to tumor while protecting adjacent critical organs of the patient.
As radiation oncologists, it becomes easy for us to deliver higher cancer destroying doses more accurately thereby helping us kill cancer cells effectively and creating chances of cure.
One of the challenges faced while giving treatment is the variation correction during radiation. What is interesting is the system allows back calculation and summation of actual delivered course during the course of radiation. It also enables accurate fusion of information obtained from PET & other functional imaging for tailoring radiation dose and adapting or modifying radiation course based on changes like tumor shrinkage & weightloss at any point during a course of radiotherapy.
Large treatment volumes like total marrow irradiation for bone marrow transplant patients or multiple tumours is often a challenge.
In that sense Radixact can be an excellent alternative given its capability to treat a significantly larger volume accurately with homogeneity while being adaptable by virtue of inbuilt CT scan, image fusion, adaptive radiotherapy with MIM module.
Bone Marrow Transplant:
Typically when conducting bone marrow transplants, radiation treatment is also provided and there is always a possibility of exposing internal organs or the total body to radiation. In the case of Radixact with its inbuilt CT scan imaging , it allows the Radiation Oncologist to treat Bone Marrow transplants to patients accurately and only to the complete bone marrow.
Medulloblastoma:
When it comes to children, Medulloblastoma takes the spot of one-fifth of all childhood brain tumours.
It is critical for the child to lie still on their face given the limitations of earlier radiation delivery systems. The treatment involves providing radiation therapy to their brain and spine in two to three parts only since other technologies could treat smaller lengths at a time. This would expose them to the risk of severe over dosage in case of an overlap or under-treatment in case of an unplanned gap at the junctions between these fields.
With Radixact however, the child can comfortably lie on their back as the machine gradually shifts them into the radiation beam treating more than three times the length possible in regular machines in a single movement of the treatment couch.
Recurring Head and Neck Cancer Treatment:
Incidences of tobacco related head and neck cancer is very high and often recurs after treatment with large instances occurring in Eastern India. Radixact comes with ability to sum up plans to evaluate the combined effects of multiple radiotherapy courses though its plan adaptive module. This unique ability along with homogeneous dose delivery plus pre-delivery CT scan ensures high accuracy, enables re-irradiation in recurrent cancer and other difficult scenarios.
While regular radiation systems approach a cancer from a fixed number of directions (typically 7 to 9) to achieve accurate shaping of radiation dose cloud around irregular shaped cancers while protecting surrounding critical organs, Radixact utilises full 360 degrees approach for unparalleled accuracy & homogeneity allowing dose escalation with confidence while decreasing normal tissue toxicity. The new Tomo Direct mode also makes Radixact a versatile system capable of treating all body sites and even simple low cost techniques in suitable patients. We have found it suitable for all clinical sites including brain, head & neck, thorax, abdomen as well as pelvis in our clinical usage – across a wide variety of clinical indications covering the spectrum from simple palliative treatments to IGRT and our experience was satisfactory both in terms of the quality of generated treatment plans as well pre treatment imaging & radiation delivery. We found the automation of several critical functions in the radiation delivery workflow to be a significant time saving advantage – the entire process of planning, verifying and finally treating and evaluating Radixact treatment were robust , accurate and reproducible. Interestingly, incorporation of simpler conformal techniques and close integration of treatment planning, delivery and data management process were the most useful innovations in an already versatile IGRT radiotherapy solution in my experience, having been one of the first Indian users of the platform and having closely followed the evolution of the system for over a decade to the present iteration.
Overall the addition of India's first Radixact to our armamentarium gives our patients and radiotherapy team several key advantages – comfortable, quick, accurate, CT scan guided, adaptable, highly conformal radiation dose delivery which gives the radiation oncologist confidence to accurately treat all sites and cancer types from simple to complex, large, long, recurrent tumors adjacent to critical organs with unparalleled accuracy.
– By Dr. Ayan Basu, Head of Radiation Oncology
HCG EKO Cancer Centre, New Town, Kolkata.