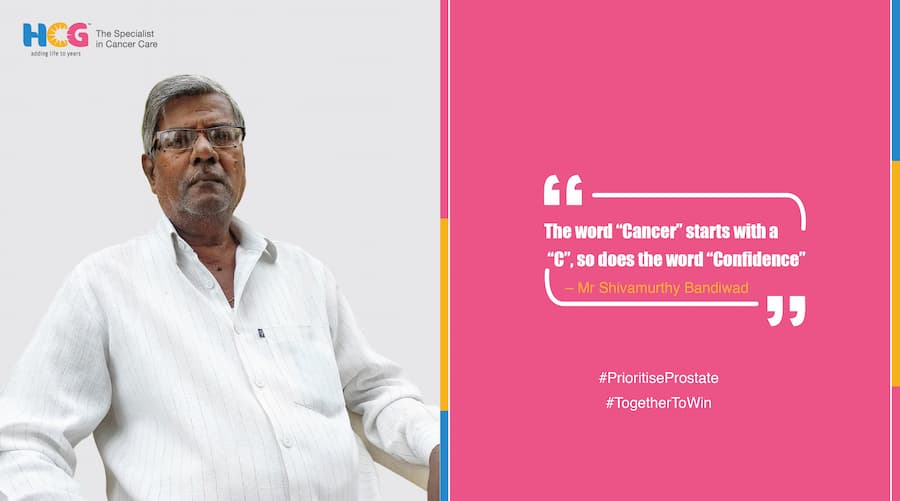 The word "Cancer" starts with a "C", so does the word "Confidence" – Mr Shivamurthy Bandiwad
Two years ago, I was diagnosed with prostate cancer. I am a retired employee who had just begun enjoying the retirement life then. It goes without saying that my diagnosis left me shell-shocked.
Initially, I had this huge wave of all negative emotions splashing me on the inside. This was partly because I belong to the generation, which considers being diagnosed with cancer a death sentence. But today, as a proud prostate cancer winner, I do have a different story to tell.
An Unexpected Diagnosis
My encounter with prostate cancer happened in 2018 when I was 69. It was a normal day when I suddenly realised I was bleeding. My family physician suggested I have an MRI and prostate biopsy done for an accurate diagnosis. My reports came in, and there it was – moderate prostate cancer. And I clearly remember going numb – for many days. It was an unexpected diagnosis.
The Search for the Best Hospital
In the coming days, anxiety and stress took over. No matter how hard I tried to stay positive or calm, I ended up feeling confused and hopeless. Taking rides on an emotional rollercoaster became a regular thing. Thankfully, this phase did not last long.
Once I got hold of reality, one of the first things I did was get my hands on as much information as possible about prostate cancer. I wanted to educate myself about prostate cancer and all possible treatment options. And in the next few days, I made a list of possible treatment options for my condition and started looking for the best doctor for my treatment. Fortunately, I live in Hubballi, which houses numerous medical centres.
After a few hospital visits and a good number of expert opinions, I made an appointment with HCG, and that was when my search officially ended. The expert team at HCG thoroughly studied my condition, weighed the pros and cons of all the treatment methods, discussed various parameters with me and eventually suggested a treatment plan that comprised surgery and chemotherapy.
My treatment at HCG – the Specialist in Cancer Care
Very soon, I was directed to HCG's centre of excellence in Bangalore. Once I reached Bangalore, the expert team here coordinated with HCG Hubballi's team for a better understanding of my case, and my surgery was scheduled right away. The experts clearly laid out all essential information about the procedure and were transparent in their communication. This helped me prepare myself mentally. Surgery and chemotherapy were essential to ensure that not even a single cancer cell existed in my body. I underwent what they call a Bladder + Prostate (Radical Cysto-Prostatectomy), which is a complex surgery that involves the removal of the prostate gland and the surrounding lymph nodes, without any complications.
Things started looking better almost immediately – the call I made was indeed a good one.
After my surgery, I moved back to my place for chemotherapy and follow-up at HCG Hubballi, and I can safely say that I am leading a normal life today. Throughout the course of my treatment at HCG, every staff member from a specialist to a janitor was kind towards me. When I saw many specialists discussing my case keeping me and my family updated about what was happening, and helping me stay positive and hopeful, I felt I was in safe hands. Lastly, special thanks to the team HCG for making me realise that normal life is still possible after a cancer diagnosis.
Today – With a Normal Life
Today, I have regular follow-ups at HCG and everyone there is extremely kind and caring towards me. These follow-ups are like other routine check-ups that are normal once you are 60. From panicking by just hearing the word "cancer" to realising that cancer is like every other disease, I have come a long way, and this was made possible for me by my beloved family members and the team at HCG of course.
I want my story to be an eye-opener for all who think that cancer is an untreatable condition, and I feel sharing my story this prostate cancer awareness month seems like the best way to make that possible.