Pragna Shah, Cancer Survivor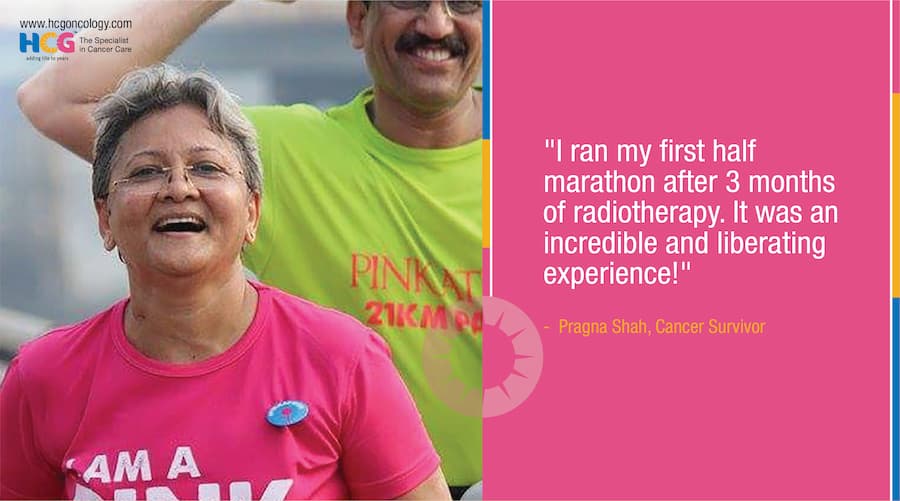 The Discovery
As a banker by profession and a fitness consultant through passion, I was always bubbly and cheerful.
I never fathomed what was in store for me the moment I walked in for regular mammography check-up that day. The doctor, a close friend, peered over the results before suggesting a sonography test and an MRI.
Frankly, I was sceptical about it. Having been a health freak for 25 years, I found it hard to believe that there could be something wrong with my health. The tests seemed like a waste of time and money but I went along with it just to prove my doctor wrong. The rest of the process was a rush. The MRI was complete and I had an appointment scheduled with a surgeon the next day. A lumpectomy was conducted soon and the reports arrived. The breast tumours were multi-focal, which meant that I needed a mastectomy.
My Treatment
I needed time for the facts to sink in and to accept the fact that cancer was now a part of my life. However, time was something I had little of. I got operated again, barely two day later. This time a pound of my own flesh was removed from my body which made me feel incomplete as a woman. I went through 8 intense rounds of chemotherapy followed by 25 rounds of radiation. It was both a physical and mental torture, but the support of my wonderful family was unwavering. After my first chemo, when my hair began shedding, I shaved my head. My husband called me 'bald and beautiful,' making me feel lovelier than ever. My son also made it a point to tell me how strong I was. He said "Just wait Mummy. One day you will run a marathon!"
The Real Marathon
It was in the August of 2014, that I came across an advertisement for marathon training. It had been merely 3 months since I completed my radiation therapy. My hair had hardly grown an inch and the scar from the surgery had barely healed. However, I was focused on completing a marathon. Both my husband and I enrolled in the training. Six month later, I ran my first half marathon. It was an incredible & liberating experience and I wish to thank all my well-wishers.
My marathon journey continued to May that year, when I came into contact with members of Pinkathon. The group arranges marathons for cancer awareness all over the country. Their own personal stories were very moving and inspiring. I began running with them. Not long after, I was made a Pinkathon ambassador and was even introduced to Milind Soman, the pioneer of the Pinkathon effort.
A Pinkathon event was arranged in Ahmedabad during October of that year. I ran 10 kilometres along with all the other women. Milind encouraged me to do it again, this time for 21 kilometres, saying that I would make a difference to many lives if I did so. I still remember that day when I ran all 21 kilometres to the end. My husband was my constant support as my pacer, nudging me on as I defeated my mental handicap.
My Parting Words
I request all my female friends to go for regular health check-ups at periodic intervals. Ever since I went through this experience, each day is a gift of new life to me. My cancer taught me not just courage, but also the fact that we are far bigger than our physical beings.
My cancer truly was a journey to freedom. A freedom to change my focus from external identity towards realizing my inherent potential and chasing my lifelong dreams.