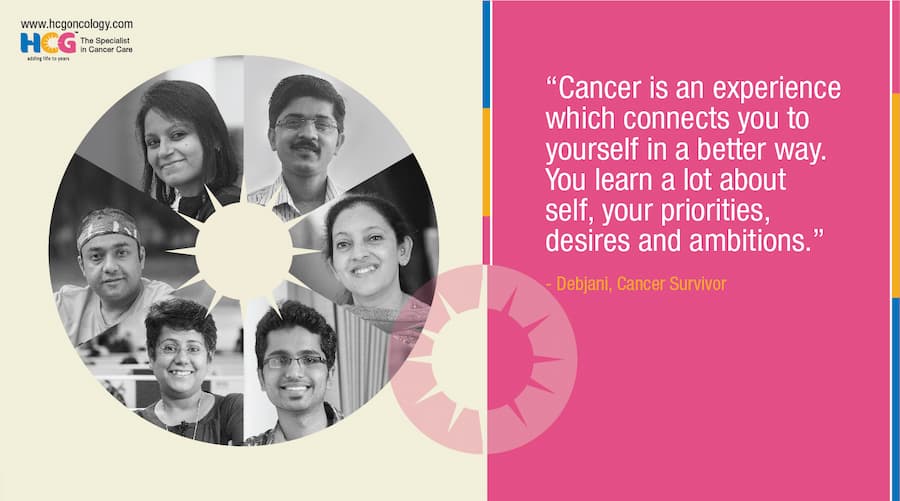 Hi, I am Debjani Saha. I am 31 and a survivor of breast cancer.
I was trying to cope with my new life and responsibilities as a wife, especially after my marriage on February 2016. An arranged marriage comes with its own challenges. Most of the time, we do not know the person well enough to embark on a journey of life. Moving to Bangalore was not new to me as I completed my schooling and graduation at Baldwin's School and Jyothi Nivas College. Although I loved the city, I was not prepared to be in RT Nagar (an unfamiliar place). It created a lot of emotional stress when I was just settling down in my marriage. Nevertheless, life went on.
How I nearly missed the Bus
Back in November, I noticed a small lump near my armpit while changing dress. I did not give much thought to it and went about my life. A little later while taking bath, I found this very lump a bit disturbing and decided to visit my gynaecologist. She ruled it out as fibroid and told me not to worry. Today, when I think back about this, I get scared how this could have delayed my treatment and affected my life. I realized that rather than being in denial, it is always better to check out for any abnormal development in our body, just to be on the safe side.
The Discovery of the Unwanted Lump
I underwent an ultrasound scan which detected rough edges in the fibroid. This made me suspicious and I chose to undergo the FNAC (fine needle aspiration). The report stated that I had Infiltrating Ductal Carcinoma. I was shocked, pained and scared as well. I felt alone and abandoned. Although we were newly married, I was yet to develop a rapport with my husband to openly talk about my diagnosis. I sought refuge by calling my mom and telling her what I was going through.
Adding to the Chaos
When you are newly married and diagnosed with cancer, it is easy for others to say that I concealed the disease from my husband before the wedding. People tend to ignore the fact that life is precious for everyone and no one wants to delay their treatment for months. Insensitive questions like "Will you lose your hair? Will they cut off your breast? Is this life threatening?" are thrown at you which creates a lot of mental unrest.
I tried reaching out to people in desperation and to my utter shock found that no one extended their support. But this is how life is. Cancer made me strong to face this part of life's journey as well.
After the diagnosis there was a lot of chaos I had to deal with, but then life became kind to me suddenly. I had shifted from RT Nagar to Old Airport Road which reduced the travel time. I also found a long lost friend in the pathology department where I had gone to collect my report. She helped me out by connecting me to an oncologist whom I could trust and go ahead with for my treatment.
Fast and Furious
Things were happening quite fast in my life. I had my PET scan on Saturday, treatment plan on Tuesday, surgery on Thursday and was discharged on Friday. I had walked into the hospital as a newly married bride, and in a span of six days I walked out as a cancer patient and later on as a survivor.
The irony of is scary but cancer is an experience which connects you to yourself, especially when it comes to learning about the self, one's priorities, desires and ambitions.
The OT environment was not something I imagined at all. It was a light moment with doctors listening to music and chatting among themselves. Doctors later said that even in my unconscious state, I was co-operative to the surgery and responded well.
My confidence with life remained unchanged. Having gone through two surgeries involving the breast and excruciating pain, I never thought twice in taking the stairs to reach home. It was painful but not impossible.
Welcoming my Life with a Smile
One of the most difficult parts of the treatment was going through radiation, chemotherapy and loss of hair. Though not a big deal, it pains a lot when you lose the hair you cared so much about. My husband stood by me and told me not to worry much about my looks since it wasn't important. Today, all cancer has left behind is a scar and a more confident me.
Cancer helped me understand my husband better and also made me realize the meaning of marriage. Today, I am in a new city happily looking for a new job, experiencing new things and leading a happy life. I couldn't have asked for more.