India's burden of non-communicable diseases has been escalating and one of the key areas of concern is the growing incidence of cancer. Under-diagnosis, underreporting, insufficient infrastructure, and limited awareness have exacerbated the problem. With the continuing rise in cancer cases, oncology is one of the fastest-growing segments in the Indian healthcare market. In FY19, the cancer-care market in the country was estimated at INR16,500 crore.
Cancer specialist BS Ajaikumar had recognised the need for quality cancer treatment in India and started the specialised cancer-care hospital chain, HealthCare Global Enterprises (HCG), in 2005. HCG now operates 22 cancer hospitals and three multispecialty hospitals in the country.
For the last few years, the hospital chain was struggling. Its financial performance had taken a hit and debt burden had risen. This was because the company went on an aggressive debt-funded expansion phase. HCG made losses for three consecutive years and its leverage increased significantly.
But in 2020, private-equity firm CVC Capital Partners bought a majority stake in HCG, and Raj Gore took the reins of the company as chief executive officer in February 2021. Since then, the situation has been improving. ET Prime had written about a likely turnaround in HCG about a year ago.
HCG recorded its highest-ever revenue and Ebitda in the second quarter of FY22. Even if vaccination and other Covid-19-related business are excluded, the company's revenue and Ebitda were the highest in its history.
Q2FY22 was also the first quarter after 13 quarters when HCG's bottomline was back in the positive territory. From Q4FY21, the company's earnings have continued to grow and a direct impact of these improving financials has been the generation of free cash flow over the last two quarters. The financial results showcase HCG's focus on driving growth and operational efficiencies.
Over the years, HCG built clinical expertise for cancer as well as good quality and technologically advanced hospitals, but faltered on financial performance. This is what Gore and his team are trying to correct. Their efforts have started to pay off and it seems the worst is behind them.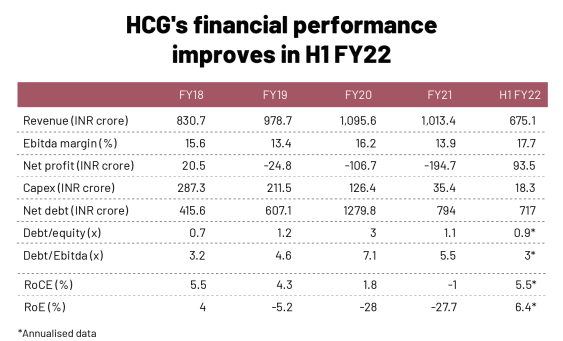 HCG's debt has come down and return ratios have improved. Its return on equity (RoE) and return on capital employed (RoCE), which were negative in FY21, have shown a sharp rise in H1FY22. Debt-to-Ebitda has also come down to3 times in H1FY22 from 5.5 times in FY21 and 7.1 times in FY20.
The company's stock price has also had a good run in the last one and a half year, beating the benchmark index. However, some other hospital stocks like Apollo Hospitals and Max Healthcare have done better.
From a low of INR62 in April 2020, HCG's stock has risen 300%, closing at INR253.10 per share on January 19, 2022.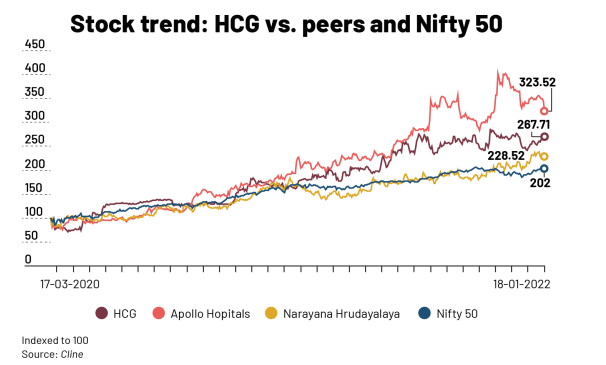 Priorities for the CEO
When Gore, who joined HCG from Apollo Hospitals and had a long stint with Fortis Healthcare earlier, took charge, the hospital chain was reeling from financial stress and the impact of Covid-19. As cancer patients are immunocompromised and susceptible to the risk of getting severe Covid-19, footfalls at HCG hospitals had declined.
Therefore, Gore's priority was to get the business back on track. He tells ET Prime that he focused on prudent capital allocation to get better returns, on improving the balance sheet, driving top-line growth, and consolidating the hospital network.
Gore says, ?The business model has always been good. HCG was already in a leadership position in cancer care and the differentiation was there. What the company required was a little clarity in direction and discipline in capital allocation.?
The company is working to improve efficiency by rationalising costs, optimising realisations, and improving manpower productivity, pricing structure and supplychain management. This is reflected in the expansion in margins.
HCG also got on board new talent to handle several functions, including new leaders for supply chain, sales and marketing, human resources, and branding, especially through the digital channel.
?The new management's focus is on operational excellence. The jugalbandi between Dr. Ajaikumar and Raj is synergistic because Ajaikumar brings in the clinical expertise and the vision for providing comprehensive cancer care in India, while Raj is driving laser-sharp focus on execution. He is working on improving operating efficiency across the cost levers that matter and also driving expansion and nurturing of the patient funnel through focused efforts across the patient acquisition, conversion, and retention lifecycle,? says Kaivaan Movdawalla, partner - business consulting, healthcare, at EY. ?The company is also being selective on capital allocation, and after rapid expansion earlier, the focus is now on consolidating the network.?
Gore says driving revenue growth is the key. ?I felt that the company needed more rigour in planning sales and marketing and then the discipline of monitoring, reviewing, and executing the plans. So we worked on that in the last nine months.?
?The team focused on identifying drivers of revenue growth; where we needed to add clinical talent and sub-specialties to have a more comprehensive clinical programme; the markets in which we were not present, and the accounts we didn't have,? he adds. The company planned the nitty-gritties, hospital by hospital, debating in a collaborative manner with each hospital team. Responsibilities and timelines were assigned, and the targets were achieved. ?It's the execution that makes a difference, and I realised that was the need of the hour,? says Gore.
With each passing quarter, the number of patients and revenue have increased, followed by better margins and profitability. This has given confidence to the teams, which is important because sometimes when an organisation goes through tough times, people tend to lose the growth mindset, Gore says.
Unlike multispecialty hospitals that have a very strong local connect and get a significant chunk of patients from a radius of around 10km of the hospital's location, for a single-specialty cancer hospital like HCG, the patient base is widely distributed geographically and fragmented.
Working in a specialised area of cancer care, footfalls in HCG will be limited compared to multispecialty hospitals. Therefore, the sales and marketing approach of HCG has to be different from other hospitals. So, creating brand equity with consumers gets a bit difficult for HCG.
Gore says though HCG is well respected in the medical fraternity, the general public is not too aware about the hospital chain. Creating brand awareness and improving consumer connect is also a major area of focus and here the company is undertaking several digital initiatives, which are likely to help augment growth.
Consolidation phase After the aggressive expansion spree, HCG is now consolidating its hospital network. The company had increased the number of hospitals from 17 in 2016 to 25 in 2020, but has halted expansions thereafter.
Of the 25 hospitals, eight are new hospitals (commenced operations after 2017), which were making losses. However, as they mature, their contribution to the company's overall earnings will continue to improve.
In Q2FY22, the new hospitals turned Ebitda positive for the first time. While existing or mature hospitals had Ebitda of INR59.8 crore and Ebitda margin of 21.9%, new hospitals recorded an Ebitda of INR1.94 crore.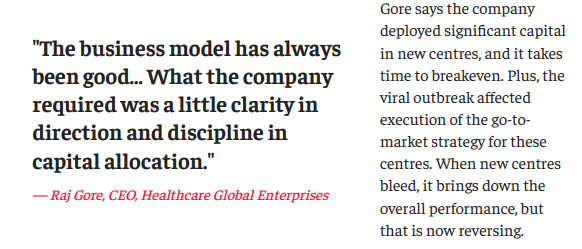 Since FY20, HCG's capital expenditure has come down. While the company has no immediate plans for greenfield expansion, it will continue to look at inorganic opportunities in a calibrated manner.
As it consolidates its hospital network, the company needs to simultaneously work on improving operational and financial metrics across regions. While Karnataka and Gujarat continue to be the biggest contributors to HCG's earnings, performance in other regions is lagging.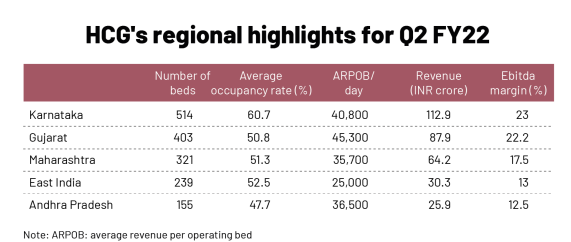 The company's centre of excellence in Bengaluru, which is its flagship hospital, has an average revenue per operating bed (ARPOB) of INR58,000 per day, while at a consolidated level, HCG's ARPOB is about INR38,000 per day. While the network-wide ARPOB gets impacted because HCG has a significant presence in non-metro markets, where pricing is relatively lower, there is still scope for improving performance in several hospitals.
Of the total bed capacity of 1,944, spread across 18 cities, 61% beds are in non-metro cities.The company's average occupancy rate was 53.3% in Q2FY22. HCG's ARPOB and occupancy rate are lower than some other leading multispeciality hospital chains. But the businesses are not strictly comparable.
Outlook
In September 2021, ratings agency Icra upgraded its ratings for HCG from A- to A+ with stable outlook, following the equity infusion by CVC Capital and promoter Ajaikumar, which resulted in a significant improvement in the company's debtprotection metrics.
HCG has also monetised its entire equity stake of 38.2% in its joint venture, Strand Life Science, purchasing back the hospital-lab and clinical-research businesses, thereby resulting in a net cash inflow of INR75 crore in September 2021. The company is expected to further prepay its debt in FY22, thereby strengthening its coverage indicators and capitalisation metrics in the near term, Icra said.
HCG's strong market position in the oncology segment, improvement in patient mix, diverse footprint across the country, high-quality infrastructure, advanced technology, and the ability to attract and retain reputed medical professionals is likely to augur well for the business.
Medical tourism is another lever of growth for the company. It has taken a hit due to the pandemic and it is currently 50% of what it used to be for HCG in pre-Covid19 times. But as the situation improves, medical tourism will pick up again and contribute meaningfully to the company's earnings.
In recent years, other leading multispecialty hospital chains like Apollo Hospitals, Max Healthcare, Fortis Healthcare, and Narayana Hrudayalaya have increased focus on oncology and it has been one of the fastest growing segments for them.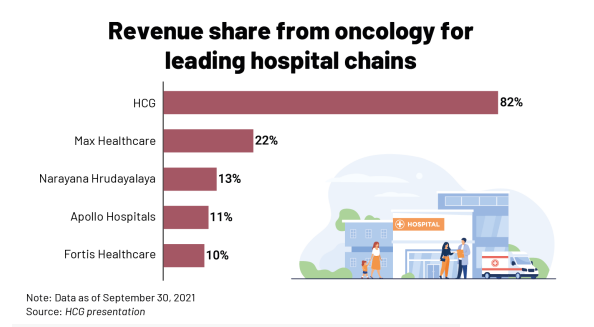 Incidence of cancer in India is on the rise and 2 million new cases are expected by 2024. High incidence and mortality rate in cancer is a growing concern and hence the need for treatment will continue to increase.
?We remain positive on HCG as: i) all clusters hit a growth path and new centres turned Ebitda-positive; and ii) free cash generation is likely by FY22, alleviating balance-sheet concern. With profitability accompanying the revenue momentum, HCG is well on track to generate ~13% RoCE by FY24,? broking firm Edelweiss Securities said in a report.
Given the focus on consolidation and operational efficiency, faster turnaround in new centres, investments in advanced technologies, and the oncology tailwinds, HCG is set on a long-term growth path, it said.
(Data support by Rochelle Britto; graphics by Mohammad Arshad).
(Originally published The Economic Times on Jan 20, 2022,12:11 AM IST)