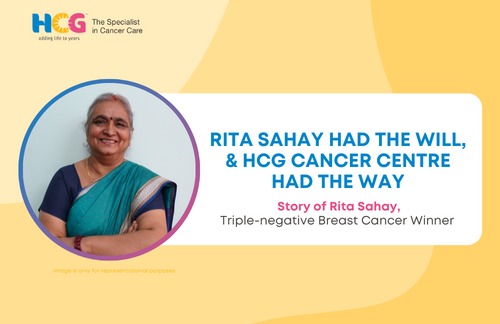 – Story of Rita Sahay, Triple-negative Breast Cancer Winner
When I received the news that I had cancer, my misery knew no bounds. I thought it was all over. I have seen many cancer patients fall severely ill and succumb to the disease, and I was afraid of a similar fate. I had a family to take care of, and I was worried that this cancer would snatch everything away from me. However, this lasted only until I met the cancer specialists at HCG-Abdur Razzaque Ansari Cancer Hospital, Ranchi.
With the right intervention, my family's support, my willpower, and the hope that the specialists at HCG gave me, I was able to make sure that my battle with cancer would be a chapter of my life and nothing beyond that.
My Cancer Diagnosis
In 2020, I found a lump in my breast. When I got it tested, it was found to be cancer. It was triple-negative breast cancer that was in the pT3 stage. We were in the middle of the pandemic, and there was a lot happening already. Amidst all this, I was not ready for a cancer diagnosis.
From the moment I got to know about my diagnosis, my mind was racing with worries about whether my treatment would be effective, how my age would affect it, and what would happen if my cancer became worse while I was receiving the treatment. However, after meeting the specialists at HCG-Abdur Razzaque Ansari Cancer Hospital, I was relieved. They sat with me for hours to explain my condition, the possible treatment options, and how I still had a chance to bounce back and lead a normal life.
Treatment at HCG Abdur Razzaque Ansari Cancer Hospital
When I came to HCG-Abdur Razzaque Ansari Cancer Hospital, I met a team of specialists, which they call a multidisciplinary team. The first thing they asked me to do was to not lose hope. They diligently listened to what I was going through and answered all my questions. They carefully went through my diagnostic reports and assessed my overall health condition. Based on this information, they came up with a personalised treatment plan. They made sure I was confident and fully ready before the treatment started.
Since mine was an aggressive form of breast cancer, a comprehensive treatment course that comprised surgery, chemotherapy, and radiation therapy was necessary.
At first, I underwent surgery, which was followed by chemotherapy. After that, radiation therapy was given. I successfully completed my treatment in December 2020. 
My family was with me throughout this ordeal, and it was their love and support that kept me going no matter what.
Parting Message
Thanks to Dr. MD. Aftab Alam Ansari and other specialists at HCG Ranchi, I feel more confident today. I am following the post-treatment care advice recommended by doctors and also keeping up my follow-up visits.
With proper medical intervention, anyone can win over cancer. By bringing care closer to home, HCG-Abdur Razzaque Ansari Cancer Hospital is helping many patients like me receive the best care without having to travel to far-off cities.