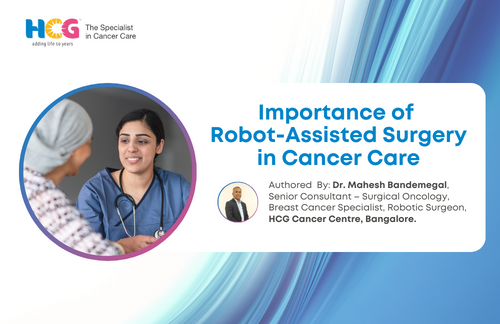 State-of-the-art technological innovations in the field of medicine, especially surgery, have helped in delivering high-quality care to patients. Robotic surgery is one such new exciting emergent technology that holds significant promise.
Robot-assisted surgeries involve performing surgical procedures with the help of robotic systems. The surgical tools are attached to remote robotic arms, which are controlled by the surgeon, who sits at a computer-enabled console. These systems, which are currently in use, are not intended to act independently from human surgeons or to replace them. Every movement of these robotic arms is controlled by the surgeon. While there are many robotic surgery systems available worldwide, the most commonly used system is the revolutionary da Vinci robotic surgical system.
The da Vinci robotic surgical system has mainly three parts:
1. Patient Cart – holds the camera and instruments
2. Surgeon Console – a station for the surgeon to sit and control the surgical instruments
3. Monitor or Vision Cart – supports 3D high-definition vision and enables the surgeon to view the surgical site during the procedure
Robot-assisted surgery is an extension of minimally invasive surgery (laparoscopic/thoracoscopic), wherein the procedures are performed through keyholes, with the main difference being the presence of robotic arms to hold the surgical instruments and perform the surgery in the case of robotic surgeries.
Advantages of Robotic Surgery
Major advances aided by surgical robots have been remote surgery, minimally invasive surgery and unmanned surgery. Compared to conventional open and laparoscopic surgery, robotic surgical systems provide increased dexterity, restore proper hand-eye coordination and improve ergonomic position and visualisation.
The additional benefits of robot-assisted surgeries are high-definition 3D images, stable immersive view and magnification. The da Vinci robotic surgical system is supported by EndoWrist technology for an extended range of movement enabling precise and complex movements.
Robot-assisted surgeries also retain the same advantages as other minimally invasive surgeries like reduced pain, decreased blood loss, minimal tissue damage, early recovery and better immunological response.
Robotic surgeries are very safe as every movement of the robotic instruments is controlled by a surgeon. They also have redundant safety mechanisms to prevent any inadvertent injuries.
Dedicated Team at HCG
Performing robotic surgery requires a well-coordinated team of specialists and supporting staff. The robotic surgery team at HCG is well trained on the functioning of the robotic surgery system and the safety measures to be taken during the surgery. All robotic surgeries at HCG are performed by experienced robotic surgeons who have received extensive training and are well-versed with this minimally invasive surgical procedure.
Uses of Robotic Surgery in Oncology
1. Head and Neck Surgery: Transoral robotic surgery (TORS) has revolutionised the surgery for tumours of the pharynx. We can avoid major open surgery, which requires a large incision and cutting open of jawbone to gain access to the area. This improves the function, avoids scars and ensures faster recovery. Robot-assisted neck dissection and thyroidectomy improve cosmesis by avoiding visible scars.
2. Robot-assisted Thoracic Surgery: Lobectomies, sleeve resection (in lung cancer) and mediastinal tumour excision can be performed with the help of robotic surgical approach. This approach helps in reducing the risk of surgery-related complications.
3. Gastrointestinal Cancer Surgery: Esophageal cancer (transthoracic esophagectomy), gastric cancer (distal/total gastrectomy), colorectal cancer (hemicolectomy, total colectomy, low anterior resection, abdominal perineal resection).
Robotic surgery in rectal cancer surpasses laparoscopic surgery in the ability to visualise and perform 360-degree movements in the narrow confines of the pelvic cavity. This ensures very good trans mesorectal clearance, preservation of bladder function and prevention of erectile dysfunction.
4. Hepatobiliary Cancer Surgery: Liver resection (hepatectomies, liver segmentectomy), radical cholecystectomy, Whipple pancreaticoduodenectomy and distal pancreatectomy.
These approaches support shorter hospital stays and faster recovery.
5. Gynaecological Cancer Surgery: Cervical and endometrial cancer (radical hysterectomy)
These approaches help in reducing the risk of treatment-related complications and supporting quicker recovery among patients.
6. Genitourinary Cancer Surgery: Radical nephrectomy, nephron-sparing surgery, radical cystectomy with neobladder reconstruction and radical prostatectomy
Radical prostatectomy is the most commonly done procedure in oncology where it is especially useful in helping to suture bladder neck with urethra thereby decreasing the risk of leak and incontinence.
Conclusion
Surgeries that were once technically challenging or unfeasible can be now performed seamlessly – thanks to the robot-assisted surgical approach. Future advances like fusing imaging technology with the robotic system may allow surgeons to perform robotic surgeries with utmost precision. Another way is to programme the robot to do surgery autonomously while being supervised by surgeons.
Robotic surgical systems are a part of efforts to expand human capability. One may say that the future of robotic surgery is limited only by imagination and cost.