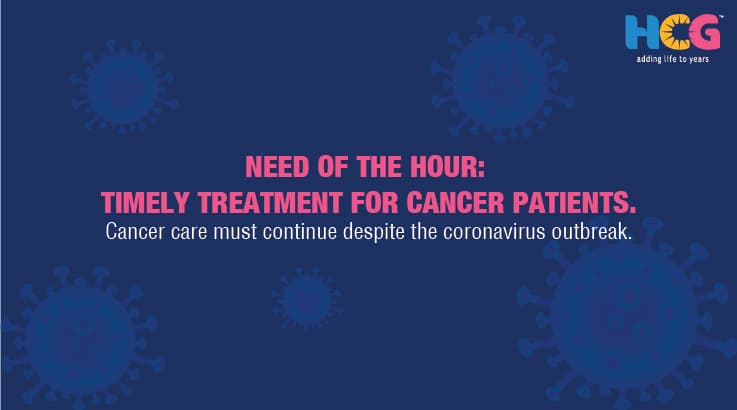 Safety measures and queries about cancer treatment:
What are the safety measures undertaken in the hospital with regards to surgeries, radiation therapies, chemotherapy, BMT, and diagnostics?
The health and safety of the patients is our top priority. Apart from WHO guidelines of prevention of the spread of COVID-19, HCG Cancer Hospital is closely monitoring COVID-19 and has implemented several measures for the patients, employees, and visitors to ensure their safety. The hospital systems have adopted social distancing and other infection control practices apart from the usual cancer care protocols. All personnel entering and exiting the hospital are screened for signs of temperature elevation and are required to disclose travel history before entering the premises. Designated pre-screening areas, holding zones, and waiting areas are demarcated to ensure that patients receiving services at HCG are safe and protocols are in place to deal with patients who show symptoms or are at high risk. Doctors, nurses, and OT staff have been provided with adequate personal protective equipment to be able to ensure their safety.
Surgery: Since cancer surgery is not an elective procedure, cancellation or delay in the surgery can cause an obstruction and may increase the spread of the disease. However, this is specific to certain cancer types; some other types of cancer surgeries can be delayed. Also, there are situations where other non-surgical treatment methods can be opted for, and surgery can be planned later.
Radiation Therapy: For patients who are currently undergoing radiotherapy, the procedure will continue with all safety measures in place for the control of COVID-19. However, patients are advised to tele consult the doctor before they visit the hospital so that the appointments can be scheduled accordingly.
The clinical decision on rescheduling or reducing the overall radiotherapy period is decided by the radiation oncologist. Patients would be triaged based on the type of cancer and the urgency of the treatment. If patients are advised to start radiotherapy immediately, then patients need to take adequate safety measures and go ahead with the treatment. . However, there are specific cancer types, where the radiation oncologist can suggest deferring, discontinuing or possibly changing to oral medication to take the treatment course.
Chemotherapy: Patients who are currently undergoing chemotherapy or immunotherapy should continue because delaying the treatment might be harmful. The hospital has also taken steps to ensure that patients coming in for chemotherapy placed are in faraway areas in the hospital and do not interact with other patients.
Bone Marrow Transplant (BMT): Patients undergoing BMT need not delay or postpone the procedure if not infected by COVID-19. Bone marrow transplants do not pose any risk as they are conducted in a highly sterile and controlled environment. But both patients and donors must undergo testing for SARS-CoV-2 and test negative before the transplant procedures begin. The hospital is also providing laboratory services at home for the safety of patients. The technician collects blood samples at home, and for further follow-ups, patients can tele consult the treating haematologist and seek advice.
Patients who have recently completed the transplant procedures can virtually consult the doctor and visit the hospital only in case of an emergency. It is also very important for patients who are suspecting to be COVID-19 positive to immediately report to the COVID-19 testing and treatment facility and also keep the haematologist informed so that the BMT procedures can be planned accordingly. The same applies to the BMT donors as well.
Diagnostics: During the time of the pandemic, visiting the hospital for blood tests is strictly not advisable. Hence, HCG Cancer Hospital is offering laboratory diagnostics services to the comfort level of patients. Patients need to tele consult the oncologist and check on the tests to be taken. Professional lab technicians would be then sent to the patient's home to collect blood samples and the test reports will be shared online.
1. Should a patient keep the follow-up appointments, or is it better to avoid the hospital visits for the time being?
There are many factors to consider when making an important decision, such as postponing cancer treatment to avoid a potential infection with COVID-19. Although HCG Cancer Hospital is classified as 'Level 0' hospital where patients with COVID-19 will not undergo treatment, yet, it is highly advisable for cancer patients not to visit the hospital during the time of pandemic to avoid any further complications. It is also ensured that patients entering the hospital premises go through adequate screening. OPD timings have been revised to avoid waiting period and encourage social distancing. Treating physicians are actively available through teleconsultations, so that non-emergency patients do not rush to the hospital. The below points may accordingly differ depending on patients' health conditions. Treating oncologists will go ahead and decide based on patients' medical history.
Possible Diagnosis of Cancer: For patients undergoing routine screening, they can postpone the appointments and continue with the self-breast examination and head and neck screenings at home.
Cancer Patients undergoing active treatment: Cancer surgeries should not be postponed or cancelled. Before visiting the hospital, patients are advised to tele consult the doctor and only reach the hospital in case of an emergency.
For patients who have completed treatment: Hospital visits are not advisable for patients who have completed their treatments. They can tele consult the doctor when in need.
2. What about the newer queries complaining of symptoms and people who need a diagnosis?
Online consultation for cancer patients is highly recommended. With the lockdown in place, HCG rapidly moved to Virtual Consults feature in Microsoft Teams that allows healthcare providers to schedule, manage, and conduct virtual visits with patients. Once a visit is scheduled through Teams, the patient receives a customised email with appointment details and a link where they can join the virtual appointment from their web browser or Teams mobile app.
A hospital visit is suggested only for radiology and nuclear medicine. Blood investigations can be done through home health services.
3. What should cancer patients and care-takers do if they are feeling uncertain and stressed as a result of the COVID-19 pandemic?
The lockdown due to the pandemic has created additional psychological stress. Psycho-oncology services are available and well adapted to help cancer patients and their care-takers with the best coping strategies to fight back in these challenging times.
4. Should people still get screened for cancer during this national emergency?
Early detection of cancer provides for better treatment options and better outcomes. However, if the routine screening involves coming to the hospital, then patients can postpone this and do the screening three to four months later. Routine self-breast exam, head and neck cancer screenings can be done at home.
Regarding specific cancer types:
1. Which patients should be most careful? Lung Cancer, Head & Neck Cancer, Blood Cancer, etc. Advice for specific cancer types
In general, cancer patients are at a higher risk of being infected with COVID-19 as a result of the tumour or due to cancer treatments that tax the immune system and its ability to respond to a newer threat like COVID-19. Patients who have undergone treatment for metastatic lung cancer, head and neck surgery, tracheostomy surgeries in the past three months, elderly and paediatric patients and those undergoing chemotherapy might be more susceptible to infections.
2. What about childhood cancer patients and their treatment?
Children with cancer and especially those receiving stem cell transplants need to be more careful and adhere strictly to the shielding strategies like:
Strictly avoid contact with anyone who is displaying symptoms of coronavirus (COVID-19). These symptoms include a high temperature and continuous cough.
Do not leave the house except for essential medical visits. Home visits from nurses who provide essential support should continue as advised by the doctor.
Do not attend any gatherings of friends and families in private spaces, for example, family homes, weddings, religious services, etc.
Shopping, leisure, and travel must be strictly avoided; any online ordered food or medication deliveries should be left at the door to minimise contact.
Treatments shall continue as planned; patients and caregivers are urged to use HCG's teleconsultation and home health services to continue cancer care.
3.Any advice for the cancer patient family members?
HCG has instituted a maximum of one nominated attendee per patient to control the patient visitor inflow at the hospital; therefore, family members need to plan their visits accordingly. It is generally advisable that relatives and attendees with a compromised immune system do not visit cancer patients at the hospital, and is it highly relevant during the time of the pandemic.
All the attendees are being screened for the symptoms of COVID-19. If necessary, they are isolated and are required to be forthcoming about their travel history and details regarding possible exposure to other COVID -19 positive patients.
4. Are all cancer patients at risk, or only those in active treatment?
While the evidence for this is still evolving, the virus poses similar threats to all cancer patients. Having said that, it seems like patients who are newly diagnosed have an active immune response already manifested as a result of cancer, and doctors around the world are finding that newly diagnosed cancer patients might not be as susceptible to COVID-19. However, this does not warrant any delay in initiating cancer treatment.
Some surgeries like bone marrow transplant and chemotherapies that require immune suppression are not advisable during this pandemic. Alternates like minimally invasive surgeries and oral chemotherapy might be available, and patients are encouraged to enquire about this with their oncologists to know if they are suitable candidates for such treatment modifications.
Those who have completed their treatment for cancer also need to be careful. If cancer treatment is completed less than three months before today, the immune system might not have recovered adequately to withstand the COVID-19 infection. However, if it has been more than three months, it is advisable to take all necessary measures of social isolation in line with the general population.
5. What else do cancer patients need to know about the coronavirus?
COVID-19 primarily infects the body through exposed epithelial layers like the eyes, mouth or nose and also through the surgical wounds. Extra care is advised if you have undergone surgery recently. Throat irritation and respiratory distress are common symptoms of COVID-19 infection. Therefore, patients with cancers in respective organs shall closely monitor themselves for these symptoms and any new ones. The virus also causes a very strong immune response; immunocompromised patients might be more susceptible and unable to generate this response to confront the virus. When cancer patients are infected with COVID-19, some guidelines indicate that the treatment of COVID-19 takes priority and might result in delays in cancer treatment.
Related to the precautions:
1. Is it safe for cancer patients to travel by air right now?
Some patients have weak immune systems or other health issues to consider, such as lung diseases. These conditions can put them at a higher risk of contracting COVID-19. Patients need to ensure that all guidelines and advisories pertaining to the travelling are followed and only travel if it is completely unavoidable. Extra precautions and shielding strategies need to be adopted to ensure that the chances of getting infected are minimised.
2. How can patients keep their immune system strong?
Exercise and stay active
Consume nutritious food
Practice simple yoga postures and pranayama (deep abdominal breathing)
3. What can patients do to protect themselves from COVID-19 infection?
Wash hands frequently with warm water and soap, for at least 20 seconds
Use face masks and follow hygienic practices during coughing and sneezing
Avoid touching your mouth, eyes, and nose
Social distancing to be strictly followed
Isolation anxiety to be avoided by being mentally active
4. If someone had COVID-19 and recovered, can they still transmit the disease?
Yes, patients who have recovered from COVID-19 infection can still transmit the disease if they are carriers. But researchers are yet to draw a conclusion on this.
5. If an individual is affected by COVID-19 once, can it be contracted again?
There are mixed reports about this from China, South Korea, the USA, and Italy, which suggest that once a patient is infected and recovers from COVID-19, a second infection might not be possible as the antibodies would have already developed to fight the infection. However, reports are now talking about multiple strains of the virus existing, and patients who have recovered from one strain getting potentially infected by another strain.